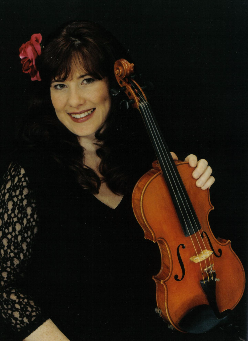 Camilla Radford-Furman
Camilla started playing the violin at age three with Elizabeth Mills, one of the very first Suzuki teachers in the United States, and was chosen to help Dr. Suzuki and his assistants demonstrate his method to interested teachers.
Later, about the age of 9, she went on to study with Sybil Maxwell in Los Angeles for many years and earned many awards and honors at Certificate of Merit, SYMF (Southwest Music Festival), Bach Festivals, and additionally was awarded scholarships to music camps and many music schools.
She has also studied with Janice Luna, from USC, Andrea Byers, from Julliard, and has had a coaching with Jason Meyers, formerly of the Boston Symphony.
Camilla attended University of California Irvine, and California State University
Long Beach, majoring in mathematics and electrical engineering. Additionally,
she attended California State University Dominguez Hills for studies towards a
music degree and taught Suzuki violin as an assistant to the Luna Violin Studio,
until moving to France.
Camilla played with the Long Beach City College Community Orchestra for over fifteen years, where she was a featured soloist, and also played with the Carson Symphony, and the South Coast Symphony, as a regular member. While living in California, Camilla was a member of the American String Teachers' Association, and was often used as an evaluator for the Certificate of Merit program of MTAC (Music Teachers' Association, California).
When first in France, she played principle second for the Rainbow
Symphony Orchestra and in the first violin section of the RATP orchestra, and as a section leader and ringer in the Association Symphonique de Paris. In September 2016, she was voted The Best Music Teacher in Paris by Expat Magazine and has been continually nominated in this catagory ever year since.

She also taught at Marymount International School of Paris and is the Paris based representative for the New York Classical Music Society, which arranges concerts and contracts musicians for specially selected artists.